Handmade in Vienna.
Interested? Contact: florian(at)lumalaunisch.com / instagram @flolaunisch
always on my mind
Opening December 7th, 17-20:00
Silvia Steinek Galerie
Eschenbachgasse 4, 1010 Vienna
Following on from the widely acclaimed presentations at Vienna's Palmenhaus and at the VIENNA DESIGN WEEK 2022, Florian Tanzer's ceramic works can be seen for the first time in an institutionally curated context. The group show "Always on My Mind" at Galerie Steinek brings together favorite pieces from the galery (Harald Durstmüller, Gudrun Kampl, Walter Vopava and Clemens Wolf) and devotes a special spotlight to Florian Tanzer with decorative vase creatures and utilitarian-oriented pieces. Selected pieces can be used as cocktail cups during the opening.

»Always on My Mind« opens on December 7, 2022 and can be seen after the winter break around the turn of the year until January 13, 2023.
–

The visual world of Luma.Launisch has been expanded with unique ceramic creations since 5 years by Florian Tanzer. The video artist lives out his passion for handicrafts. With the hashtag #AVaseEveryDay, Florian has been creating a vase or a creature every day since 2021.
Visit Florians INSTAGRAM
VIENNA DESIGN WEEK 2022 september 16-25
extended exhibition at palmenhaus,
open studio and WasenWesen at ViennaDesignWeek headquater 🙂
"When I start, I don't know how it turns out, whether it will remain 'just' a vase or whether I will add a character. I'm surprised myself when the finished creature smiles at me. I also often process my current mood and it can range from sad, confused to exuberantly happy. It gives me indescribable joy to knead the earthy material and to create something with my hands. I know why doing ceramics is quite trendy for years. You never know exactly what will come out of the kiln. Pure excitement!"
Quote from a vase collector:
"These creatures can do so much – if we let them. They can make us happy. Or thoughtful. They let us come into contact with us. They enchant every room, are an aura and an enticing secret."
Exhibition in Vienna 2022 / June 12 to Sept 12, Palm House at Burggarten
EXTENDED AS PART OF Vienna Design Week / Finissage: Saturday Sept 24 / 8:00 pm
Unique Ceramics Shooting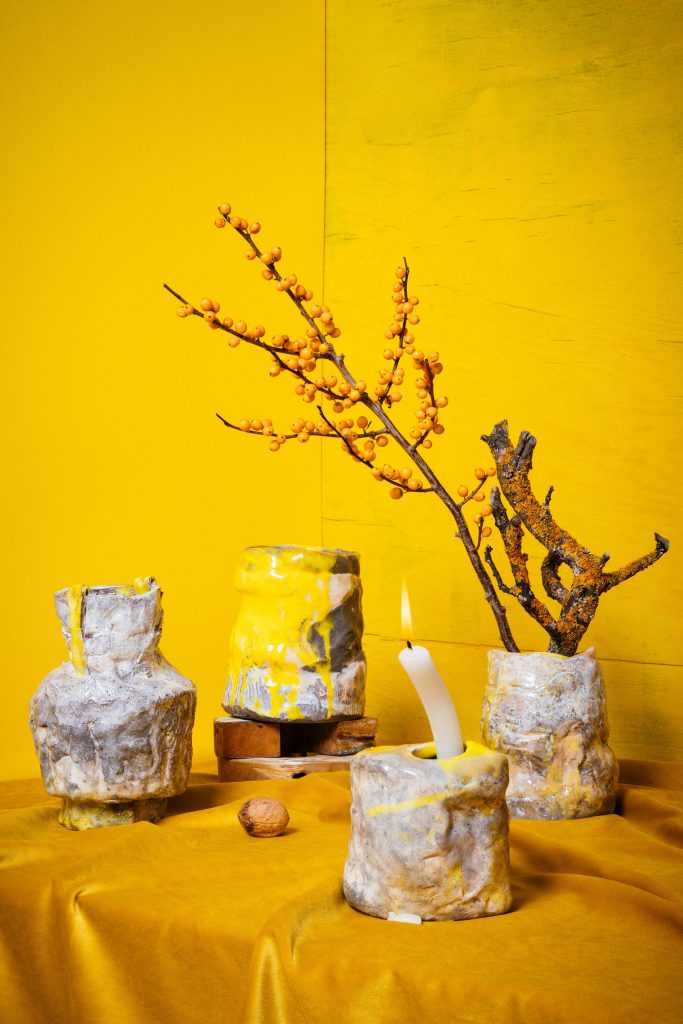 The kiln is running hot in the co-creativity studio "CUMBERLAND fifty-four" in Vienna Penzing. The colorful figures can be admired in the windows. Florian is looking forward to your visit to the studio!
CUMBERLAND fifty-four (Cumberlandstrasse 54, 1140 Vienna) www.instagram.com/cumberland_54

The PALM HOUSE in Vienna's Burggarten is pleased to present the special vase show entitled "WASEN & WESEN – Unique Ceramics". www.palmenhaus.at / www.instagram.com/palmenhausbrasserie (Burggarten 1, 1010 Vienna)
Ceramic works and large prints from a very special photo shoot with drag performer Dutzi Ijsenhower and interior photographer Gregor Hofbauer are on display.
SHOP UPDATE :
Do yourself some goooood!